This data was collected from Wikipedia and the Intel Web site.
If we assume 1 CPU clock tick is of equal value on all Intel Processors then we can work out total speed as the clock speed times the number of cores.
In actually is much more
complicated
.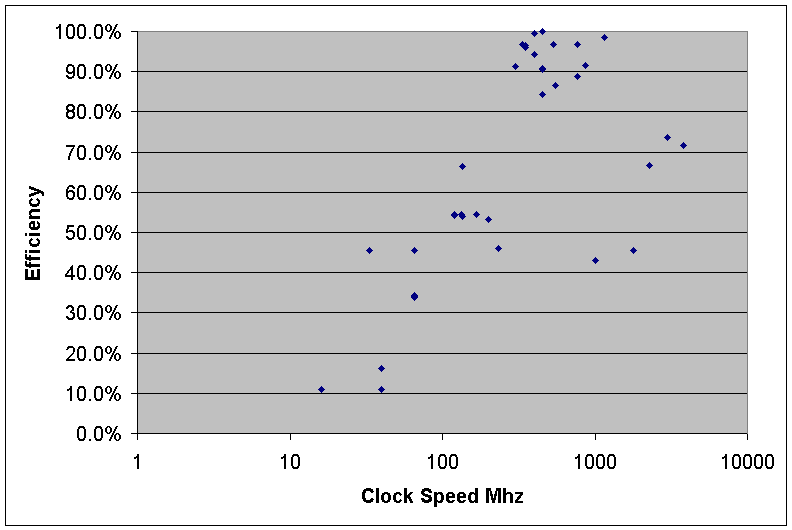 Graph above last updated in 2005 and doesn't include data beyond the original P4 processors.
The above chart attempts to work out the amount of processing per clock tick on a single core.
What was interesting is the 1/3 drop in the amount of work done per cycle on the highest end P4 CPU's.
The Chart below is sorted from Worst to best. I included the older 3.8 GHz P4 and P4M for comparison. These are 2 to worst entries at the top of the table.
| | | | | | | |
| --- | --- | --- | --- | --- | --- | --- |
| | | | | | | |
| | CPU Model | Clock GHz | # of Cores | TPD Watts | Speed (Clock*Cores) | Efficiency (Ghz / Watt) |
| | P4 HT670 | 3.8 | 1 | 115 | 3.800 | 0.033 |
| | P4M | 2.6 | 1 | 35 | 2.600 | 0.074 |
| | i5-661 | 3.33 | 2 | 87 | 6.660 | 0.077 |
| | i3-530 | 2.93 | 2 | 73 | 5.860 | 0.080 |
| | i7-920 | 2.67 | 4 | 130 | 10.680 | 0.082 |
| | i3-540 | 3.07 | 2 | 73 | 6.140 | 0.084 |
| | i7-930 | 2.8 | 4 | 130 | 11.200 | 0.086 |
| | i5-650 | 3.2 | 2 | 73 | 6.400 | 0.088 |
| | i5-655 | 3.2 | 2 | 73 | 6.400 | 0.088 |
| | i3-550 | 3.2 | 2 | 73 | 6.400 | 0.088 |
| | i7-940 | 2.93 | 4 | 130 | 11.720 | 0.090 |
| | i5-660 | 3.33 | 2 | 73 | 6.660 | 0.091 |
| | i3-560 | 3.33 | 2 | 73 | 6.660 | 0.091 |
| | i7-950 | 3.07 | 4 | 130 | 12.280 | 0.094 |
| | i5-670 | 3.47 | 2 | 73 | 6.940 | 0.095 |
| | i3-2100 | 3.1 | 2 | 65 | 6.200 | 0.095 |
| | i3-2102 | 3.1 | 2 | 65 | 6.200 | 0.095 |
| | i3-2105 | 3.1 | 2 | 65 | 6.200 | 0.095 |
| | i7-960 | 3.2 | 4 | 130 | 12.800 | 0.098 |
| | i7-965 | 3.2 | 4 | 130 | 12.800 | 0.098 |
| | i5-680 | 3.6 | 2 | 73 | 7.200 | 0.099 |
| | i3-2120 | 3.3 | 2 | 65 | 6.600 | 0.102 |
| | i3-2125 | 3.3 | 2 | 65 | 6.600 | 0.102 |
| | i7-975 | 3.33 | 4 | 130 | 13.320 | 0.102 |
| | i3-2130 | 3.4 | 2 | 65 | 6.800 | 0.105 |
| | i7-3820 | 3.6 | 4 | 130 | 14.400 | 0.111 |
| | i5-750 | 2.67 | 4 | 95 | 10.680 | 0.112 |
| | i3-3210 | 3.2 | 2 | 55 | 6.400 | 0.116 |
| | i5-750s | 2.4 | 4 | 82 | 9.600 | 0.117 |
| | i5-760 | 2.8 | 4 | 95 | 11.200 | 0.118 |
| | i5-2300 | 2.8 | 4 | 95 | 11.200 | 0.118 |
| | i7-860 | 2.8 | 4 | 95 | 11.200 | 0.118 |
| | i5-520UM | 1.07 | 2 | 18 | 2.140 | 0.119 |
| | i7-620UM | 1.07 | 2 | 18 | 2.140 | 0.119 |
| | i7-620UE | 1.07 | 2 | 18 | 2.140 | 0.119 |
| | i3-3220 | 3.3 | 2 | 55 | 6.600 | 0.120 |
| | i3-3225 | 3.3 | 2 | 55 | 6.600 | 0.120 |
| | i3-2308M | 2.1 | 2 | 35 | 4.200 | 0.120 |
| | i3-2310M | 2.1 | 2 | 35 | 4.200 | 0.120 |
| | i3-2312M | 2.1 | 2 | 35 | 4.200 | 0.120 |
| | i3-2310E | 2.1 | 2 | 35 | 4.200 | 0.120 |
| | i3-330M | 2.13 | 2 | 35 | 4.260 | 0.122 |
| | i3-330E | 2.13 | 2 | 35 | 4.260 | 0.122 |
| | i5-2310 | 2.9 | 4 | 95 | 11.600 | 0.122 |
| | i7-870 | 2.93 | 4 | 95 | 11.720 | 0.123 |
| | i7-875K | 2.93 | 4 | 95 | 11.720 | 0.123 |
| | i7-860S | 2.53 | 4 | 82 | 10.120 | 0.123 |
| | i3-3240 | 3.4 | 2 | 55 | 6.800 | 0.124 |
| | i3-2328M | 2.2 | 2 | 35 | 4.400 | 0.126 |
| | i3-2330M | 2.2 | 2 | 35 | 4.400 | 0.126 |
| | i3-2332M | 2.2 | 2 | 35 | 4.400 | 0.126 |
| | i3-2330E | 2.2 | 2 | 35 | 4.400 | 0.126 |
| | i5-2320 | 3 | 4 | 95 | 12.000 | 0.126 |
| | i7-880 | 3.07 | 4 | 95 | 12.280 | 0.129 |
| | i5-430M | 2.27 | 2 | 35 | 4.540 | 0.130 |
| | i3-350M | 2.27 | 2 | 35 | 4.540 | 0.130 |
| | i7-870S | 2.67 | 4 | 82 | 10.680 | 0.130 |
| | i5-2380P | 3.1 | 4 | 95 | 12.400 | 0.131 |
| | i5-2400 | 3.1 | 4 | 95 | 12.400 | 0.131 |
| | i5-2410M | 2.3 | 2 | 35 | 4.600 | 0.131 |
| | i5-2415M | 2.3 | 2 | 35 | 4.600 | 0.131 |
| | i3-2348M | 2.3 | 2 | 35 | 4.600 | 0.131 |
| | i3-2350M | 2.3 | 2 | 35 | 4.600 | 0.131 |
| | i5-430UM | 1.2 | 2 | 18 | 2.400 | 0.133 |
| | i5-540UM | 1.2 | 2 | 18 | 2.400 | 0.133 |
| | i3-330UM | 1.2 | 2 | 18 | 2.400 | 0.133 |
| | i7-640UM | 1.2 | 2 | 18 | 2.400 | 0.133 |
| | i5-2450P | 3.2 | 4 | 95 | 12.800 | 0.135 |
| | i5-450M | 2.4 | 2 | 35 | 4.800 | 0.137 |
| | i5-520M | 2.4 | 2 | 35 | 4.800 | 0.137 |
| | i5-520E | 2.4 | 2 | 35 | 4.800 | 0.137 |
| | i5-2430M | 2.4 | 2 | 35 | 4.800 | 0.137 |
| | i5-2435M | 2.4 | 2 | 35 | 4.800 | 0.137 |
| | i3-370M | 2.4 | 2 | 35 | 4.800 | 0.137 |
| | i3-2370M | 2.4 | 2 | 35 | 4.800 | 0.137 |
| | i3-3110M | 2.4 | 2 | 35 | 4.800 | 0.137 |
| | i3-2120ME | 2.4 | 2 | 35 | 4.800 | 0.137 |
| | i5-2500 | 3.3 | 4 | 95 | 13.200 | 0.139 |
| | i5-2500K | 3.3 | 4 | 95 | 13.200 | 0.139 |
| | i7-3970X | 3.5 | 6 | 150 | 21.000 | 0.140 |
| | i7-720QM | 1.6 | 4 | 45 | 6.400 | 0.142 |
| | i5-2450M | 2.5 | 2 | 35 | 5.000 | 0.143 |
| | i5-2520M | 2.5 | 2 | 35 | 5.000 | 0.143 |
| | i5-2510E | 2.5 | 2 | 35 | 5.000 | 0.143 |
| | i5-2515E | 2.5 | 2 | 35 | 5.000 | 0.143 |
| | i5-3210M | 2.5 | 2 | 35 | 5.000 | 0.143 |
| | i3-2100T | 2.5 | 2 | 35 | 5.000 | 0.143 |
| | i3-3120M | 2.5 | 2 | 35 | 5.000 | 0.143 |
| | i5-2550K | 3.4 | 4 | 95 | 13.600 | 0.143 |
| | i7-2600 | 3.4 | 4 | 95 | 13.600 | 0.143 |
| | i7-2600K | 3.4 | 4 | 95 | 13.600 | 0.143 |
| | i5-460M | 2.53 | 2 | 35 | 5.060 | 0.145 |
| | i5-540M | 2.53 | 2 | 35 | 5.060 | 0.145 |
| | i3-380M | 2.53 | 2 | 35 | 5.060 | 0.145 |
| | i7-610E | 2.53 | 2 | 35 | 5.060 | 0.145 |
| | i7-920XM | 2 | 4 | 55 | 8.000 | 0.145 |
| | i7-2700K | 3.5 | 4 | 95 | 14.000 | 0.147 |
| | i7-970 | 3.2 | 6 | 130 | 19.200 | 0.148 |
| | i7-3930K | 3.2 | 6 | 130 | 19.200 | 0.148 |
| | i5-470UM | 1.33 | 2 | 18 | 2.660 | 0.148 |
| | i5-560UM | 1.33 | 2 | 18 | 2.660 | 0.148 |
| | i3-380UM | 1.33 | 2 | 18 | 2.660 | 0.148 |
| | i7-660UM | 1.33 | 2 | 18 | 2.660 | 0.148 |
| | i7-660UE | 1.33 | 2 | 18 | 2.660 | 0.148 |
| | i5-2540M | 2.6 | 2 | 35 | 5.200 | 0.149 |
| | i5-3230M | 2.6 | 2 | 35 | 5.200 | 0.149 |
| | i5-3320M | 2.6 | 2 | 35 | 5.200 | 0.149 |
| | i3-2120T | 2.6 | 2 | 35 | 5.200 | 0.149 |
| | i3-3130M | 2.6 | 2 | 35 | 5.200 | 0.149 |
| | i7-3960X | 3.3 | 6 | 130 | 19.800 | 0.152 |
| | i5-480M | 2.67 | 2 | 35 | 5.340 | 0.153 |
| | i5-560M | 2.67 | 2 | 35 | 5.340 | 0.153 |
| | i5-580M | 2.67 | 2 | 35 | 5.340 | 0.153 |
| | i3-390M | 2.67 | 2 | 35 | 5.340 | 0.153 |
| | i7-620M | 2.67 | 2 | 35 | 5.340 | 0.153 |
| | i3-2357M | 1.3 | 2 | 17 | 2.600 | 0.153 |
| | i3-2340UE | 1.3 | 2 | 17 | 2.600 | 0.153 |
| | i7-980 | 3.33 | 6 | 130 | 19.980 | 0.154 |
| | i7-980X | 3.33 | 6 | 130 | 19.980 | 0.154 |
| | i7-740QM | 1.73 | 4 | 45 | 6.920 | 0.154 |
| | i7-820QM | 1.73 | 4 | 45 | 6.920 | 0.154 |
| | i5-2400S | 2.5 | 4 | 65 | 10.000 | 0.154 |
| | i5-2405S | 2.5 | 4 | 65 | 10.000 | 0.154 |
| | i5-2390T | 2.7 | 2 | 35 | 5.400 | 0.154 |
| | i5-3340M | 2.7 | 2 | 35 | 5.400 | 0.154 |
| | i5-3610ME | 2.7 | 2 | 35 | 5.400 | 0.154 |
| | i7-2620M | 2.7 | 2 | 35 | 5.400 | 0.154 |
| | i7-940XM | 2.13 | 4 | 55 | 8.520 | 0.155 |
| | i5-3330 | 3 | 4 | 77 | 12.000 | 0.156 |
| | i5-3360M | 2.8 | 2 | 35 | 5.600 | 0.160 |
| | i3-3220T | 2.8 | 2 | 35 | 5.600 | 0.160 |
| | i7-640M | 2.8 | 2 | 35 | 5.600 | 0.160 |
| | i7-620LM | 2 | 2 | 25 | 4.000 | 0.160 |
| | i7-620LE | 2 | 2 | 25 | 4.000 | 0.160 |
| | i7-2640M | 2.8 | 2 | 35 | 5.600 | 0.160 |
| | i7-990X | 3.47 | 6 | 130 | 20.820 | 0.160 |
| | i5-3450 | 3.1 | 4 | 77 | 12.400 | 0.161 |
| | i7-680UM | 1.47 | 2 | 18 | 2.940 | 0.163 |
| | i5-2537M | 1.4 | 2 | 17 | 2.800 | 0.165 |
| | i3-2365M | 1.4 | 2 | 17 | 2.800 | 0.165 |
| | i3-2367M | 1.4 | 2 | 17 | 2.800 | 0.165 |
| | i5-3470T | 2.9 | 2 | 35 | 5.800 | 0.166 |
| | i5-3380M | 2.9 | 2 | 35 | 5.800 | 0.166 |
| | i3-3240T | 2.9 | 2 | 35 | 5.800 | 0.166 |
| | i7-3520M | 2.9 | 2 | 35 | 5.800 | 0.166 |
| | i5-2500S | 2.7 | 4 | 65 | 10.800 | 0.166 |
| | i5-3330S | 2.7 | 4 | 65 | 10.800 | 0.166 |
| | i5-3335S | 2.7 | 4 | 65 | 10.800 | 0.166 |
| | i7-840QM | 1.87 | 4 | 45 | 7.480 | 0.166 |
| | i5-3470 | 3.2 | 4 | 77 | 12.800 | 0.166 |
| | A D410 | 1.67 | 1 | 10 | 1.670 | 0.167 |
| | i7-2629M | 2.1 | 2 | 25 | 4.200 | 0.168 |
| | i7-640LM | 2.13 | 2 | 25 | 4.260 | 0.170 |
| | i5-3550 | 3.3 | 4 | 77 | 13.200 | 0.171 |
| | i7-3540M | 3 | 2 | 35 | 6.000 | 0.171 |
| | A CE4100 | 1.2 | 1 | 7 | 1.200 | 0.171 |
| | A CE4130 | 1.2 | 1 | 7 | 1.200 | 0.171 |
| | A CE4150 | 1.2 | 1 | 7 | 1.200 | 0.171 |
| | i5-3450S | 2.8 | 4 | 65 | 11.200 | 0.172 |
| | i7-2600S | 2.8 | 4 | 65 | 11.200 | 0.172 |
| | i7-2644LE | 2.2 | 2 | 25 | 4.400 | 0.176 |
| | i3-2375M | 1.5 | 2 | 17 | 3.000 | 0.176 |
| | i3-2377M | 1.5 | 2 | 17 | 3.000 | 0.176 |
| | i7-2617M | 1.5 | 2 | 17 | 3.000 | 0.176 |
| | i7-2610UE | 1.5 | 2 | 17 | 3.000 | 0.176 |
| | i5-3570 | 3.4 | 4 | 77 | 13.600 | 0.177 |
| | i5-3570K | 3.4 | 4 | 77 | 13.600 | 0.177 |
| | i7-3770 | 3.4 | 4 | 77 | 13.600 | 0.177 |
| | i7-2630QM | 2 | 4 | 45 | 8.000 | 0.178 |
| | i7-2635QM | 2 | 4 | 45 | 8.000 | 0.178 |
| | i5-3470S | 2.9 | 4 | 65 | 11.600 | 0.178 |
| | i5-3475S | 2.9 | 4 | 65 | 11.600 | 0.178 |
| | i5-3350P | 3.1 | 4 | 69 | 12.400 | 0.180 |
| | i7-660LM | 2.27 | 2 | 25 | 4.540 | 0.182 |
| | i7-3770K | 3.5 | 4 | 77 | 14.000 | 0.182 |
| | i7-2920XM | 2.5 | 4 | 55 | 10.000 | 0.182 |
| | A E620 | 0.6 | 1 | 3.3 | 0.600 | 0.182 |
| | A E620T | 0.6 | 1 | 3.3 | 0.600 | 0.182 |
| | A D425 | 1.83 | 1 | 10 | 1.830 | 0.183 |
| | i7-2649M | 2.3 | 2 | 25 | 4.600 | 0.184 |
| | i5-3550S | 3 | 4 | 65 | 12.000 | 0.185 |
| | i7-2710QE | 2.1 | 4 | 45 | 8.400 | 0.187 |
| | i7-2715QE | 2.1 | 4 | 45 | 8.400 | 0.187 |
| | i5-2467M | 1.6 | 2 | 17 | 3.200 | 0.188 |
| | i3-3217UE | 1.6 | 2 | 17 | 3.200 | 0.188 |
| | i7-2657M | 1.6 | 2 | 17 | 3.200 | 0.188 |
| | i5-3570S | 3.1 | 4 | 65 | 12.400 | 0.191 |
| | i7-3770S | 3.1 | 4 | 65 | 12.400 | 0.191 |
| | i7-2670QM | 2.2 | 4 | 45 | 8.800 | 0.196 |
| | i7-2675QM | 2.2 | 4 | 45 | 8.800 | 0.196 |
| | i7-2720QM | 2.2 | 4 | 45 | 8.800 | 0.196 |
| | i7-2960XM | 2.7 | 4 | 55 | 10.800 | 0.196 |
| | i5-2557M | 1.7 | 2 | 17 | 3.400 | 0.200 |
| | i5-3317U | 1.7 | 2 | 17 | 3.400 | 0.200 |
| | i7-2637M | 1.7 | 2 | 17 | 3.400 | 0.200 |
| | i7-3555LE | 2.5 | 2 | 25 | 5.000 | 0.200 |
| | i7-3517UE | 1.7 | 2 | 17 | 3.400 | 0.200 |
| | i5-2500T | 2.3 | 4 | 45 | 9.200 | 0.204 |
| | i5-3570T | 2.3 | 4 | 45 | 9.200 | 0.204 |
| | i7-2820QM | 2.3 | 4 | 45 | 9.200 | 0.204 |
| | i7-3610QM | 2.3 | 4 | 45 | 9.200 | 0.204 |
| | i7-3615QM | 2.3 | 4 | 45 | 9.200 | 0.204 |
| | i7-3610QE | 2.3 | 4 | 45 | 9.200 | 0.204 |
| | i7-3615QE | 2.3 | 4 | 45 | 9.200 | 0.204 |
| | i7-3920XM | 2.9 | 4 | 55 | 11.600 | 0.211 |
| | i5-3337U | 1.8 | 2 | 17 | 3.600 | 0.212 |
| | i5-3427U | 1.8 | 2 | 17 | 3.600 | 0.212 |
| | i3-3217U | 1.8 | 2 | 17 | 3.600 | 0.212 |
| | i7-2677M | 1.8 | 2 | 17 | 3.600 | 0.212 |
| | i7-2760QM | 2.4 | 4 | 45 | 9.600 | 0.213 |
| | i7-3630QM | 2.4 | 4 | 45 | 9.600 | 0.213 |
| | i7-3635QM | 2.4 | 4 | 45 | 9.600 | 0.213 |
| | i3-3229Y | 1.4 | 2 | 13 | 2.800 | 0.215 |
| | i7-3940XM | 3 | 4 | 55 | 12.000 | 0.218 |
| | i7-3770T | 2.5 | 4 | 45 | 10.000 | 0.222 |
| | i7-2860QM | 2.5 | 4 | 45 | 10.000 | 0.222 |
| | A E625C | 0.6 | 1 | 2.7 | 0.600 | 0.222 |
| | i5-3437U | 1.9 | 2 | 17 | 3.800 | 0.224 |
| | i3-3227U | 1.9 | 2 | 17 | 3.800 | 0.224 |
| | i7-3517U | 1.9 | 2 | 17 | 3.800 | 0.224 |
| | i5-3339Y | 1.5 | 2 | 13 | 3.000 | 0.231 |
| | i5-3439Y | 1.5 | 2 | 13 | 3.000 | 0.231 |
| | i7-3689Y | 1.5 | 2 | 13 | 3.000 | 0.231 |
| | A E625CT | 0.6 | 1 | 2.6 | 0.600 | 0.231 |
| | i7-3720QM | 2.6 | 4 | 45 | 10.400 | 0.231 |
| | i7-3537U | 2 | 2 | 17 | 4.000 | 0.235 |
| | i7-3667U | 2 | 2 | 17 | 4.000 | 0.235 |
| | i7-3740QM | 2.7 | 4 | 45 | 10.800 | 0.240 |
| | i7-3820QM | 2.7 | 4 | 45 | 10.800 | 0.240 |
| | i7-3612QM | 2.1 | 4 | 35 | 8.400 | 0.240 |
| | i7-3612QE | 2.1 | 4 | 35 | 8.400 | 0.240 |
| | i7-3687U | 2.1 | 2 | 17 | 4.200 | 0.247 |
| | i7-3840QM | 2.8 | 4 | 45 | 11.200 | 0.249 |
| | i7-3632QM | 2.2 | 4 | 35 | 8.800 | 0.251 |
| | A D510 | 1.67 | 2 | 13 | 3.340 | 0.257 |
| | A N455 | 1.67 | 1 | 6.5 | 1.670 | 0.257 |
| | A N435 | 1.33 | 1 | 5 | 1.330 | 0.266 |
| | A E640 | 1 | 1 | 3.6 | 1.000 | 0.278 |
| | A E640T | 1 | 1 | 3.6 | 1.000 | 0.278 |
| | A E645C | 1 | 1 | 3.6 | 1.000 | 0.278 |
| | A E645CT | 1 | 1 | 3.6 | 1.000 | 0.278 |
| | A D525 | 1.83 | 2 | 13 | 3.660 | 0.282 |
| | A N470 | 1.83 | 1 | 6.5 | 1.830 | 0.282 |
| | A N475 | 1.83 | 1 | 6.5 | 1.830 | 0.282 |
| | A N450 | 1.67 | 1 | 5.5 | 1.670 | 0.304 |
| | A N550 | 1.5 | 2 | 8.5 | 3.000 | 0.353 |
| | A E680 | 1.6 | 1 | 4.5 | 1.600 | 0.356 |
| | A E680T | 1.6 | 1 | 4.5 | 1.600 | 0.356 |
| | A E660 | 1.3 | 1 | 3.6 | 1.300 | 0.361 |
| | A E660T | 1.3 | 1 | 3.6 | 1.300 | 0.361 |
| | A E665C | 1.3 | 1 | 3.6 | 1.300 | 0.361 |
| | A E665CT | 1.3 | 1 | 3.6 | 1.300 | 0.361 |
| | A D2500 | 1.86 | 2 | 10 | 3.720 | 0.372 |
| | A D2550 | 1.86 | 2 | 10 | 3.720 | 0.372 |
| | A N670 | 1.67 | 2 | 8.5 | 3.340 | 0.393 |
| | A S1220 | 1.6 | 2 | 8.1 | 3.200 | 0.395 |
| | A 230 | 1.6 | 1 | 4 | 1.600 | 0.400 |
| | A 330 | 1.6 | 2 | 8 | 3.200 | 0.400 |
| | A D2560 | 2 | 2 | 10 | 4.000 | 0.400 |
| | A Z650 | 1.2 | 1 | 3 | 1.200 | 0.400 |
| | A D2700 | 2.13 | 2 | 10 | 4.260 | 0.426 |
| | A D2750 | 2.26 | 2 | 10 | 4.520 | 0.452 |
| | A Z605 | 1 | 1 | 2.2 | 1.000 | 0.455 |
| | A S1260 | 2 | 2 | 8.5 | 4.000 | 0.471 |
| | A Z510P | 1.1 | 1 | 2.2 | 1.100 | 0.500 |
| | A Z510PT | 1.1 | 1 | 2.2 | 1.100 | 0.500 |
| | A Z670 | 1.5 | 1 | 3 | 1.500 | 0.500 |
| | A S1240 | 1.6 | 2 | 6.1 | 3.200 | 0.525 |
| | A Z510 | 1.1 | 1 | 2 | 1.100 | 0.550 |
| | A N2800 | 1.87 | 2 | 6.5 | 3.740 | 0.575 |
| | A N2850 | 2 | 2 | 6.6 | 4.000 | 0.606 |
| | A Z610 | 0.8 | 1 | 1.3 | 0.800 | 0.615 |
| | A N270 | 1.6 | 1 | 2.5 | 1.600 | 0.640 |
| | A Z520PT | 1.44 | 1 | 2.2 | 1.440 | 0.655 |
| | A Z520 | 1.33 | 1 | 2 | 1.330 | 0.665 |
| | A N280 | 1.67 | 1 | 2.5 | 1.670 | 0.668 |
| | A Z612 | 0.9 | 1 | 1.3 | 0.900 | 0.692 |
| | A Z620 | 0.9 | 1 | 1.3 | 0.900 | 0.692 |
| | A Z530P | 1.6 | 1 | 2.2 | 1.600 | 0.727 |
| | A Z615 | 1.6 | 1 | 2.2 | 1.600 | 0.727 |
| | A Z540 | 1.87 | 1 | 2.4 | 1.870 | 0.779 |
| | A Z530 | 1.6 | 1 | 2 | 1.600 | 0.800 |
| | A Z550 | 2 | 1 | 2.4 | 2.000 | 0.833 |
| | A Z560 | 2.13 | 1 | 2.5 | 2.130 | 0.852 |
| | A Z515 | 1.2 | 1 | 1.4 | 1.200 | 0.857 |
| | A Z625 | 1.9 | 1 | 2.2 | 1.900 | 0.864 |
| | A N2600 | 1.6 | 2 | 3.5 | 3.200 | 0.914 |
| | A Z600 | 1.2 | 1 | 1.3 | 1.200 | 0.923 |
| | A N2650 | 1.7 | 2 | 3.6 | 3.400 | 0.944 |
| | A Z500 | 0.8 | 1 | 0.65 | 0.800 | 1.231 |